Lenz® Reaction Vessels with new security valve
The Lenz reaction vessel programme stands for "Made in Germany" quality and for the very highest precision and reliability.
As of 1 January 2021, all Lenz® reaction vessels will be supplied with an optimized bottom outlet valve. This robust valve has a spring-loaded valve spindle, which guarantees an even pressure on the valve seat, regardless of temperature changes and thus prevents dangerous tension from being created.
Advantages of the new bottom outlet valve
Easy assembly

No dead volume

Spring-loaded valve spindle

Exceptionally high chemical resistance

Media only have contact to borosilicate glass 3.3 and PTFE

Durable materials ensure a high degree of reliability and a long product life

The valve spindle is also available as a spare part
Order information
Our current article numbers for complete reactors remain unchanged.
Additional components and special equipment versions are available on request.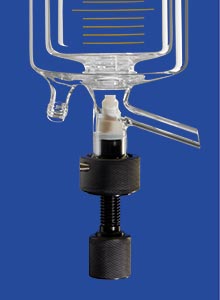 Spare valve spindle (new)
Valve opening: 10 mm
Valve spindle: PTFE
Valve body: PA 66
Nominal operating temperature: -30 to +200 °C,
with restrictions also down to -100 °C (reduced tightness)
Store dry at temperatures of -20 to +40 °C
Pack quantity: 1 piece

Article number: 6061312